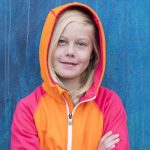 Hi! My name is Kira. I'm twelve years old. I go to Falcon Cove Middle School, and I am in 8th grade. I love reading and writing, as well as arts and crafts. I am currently reading the Harley Merlin series, and I highly recommend it for an action- packed and thrilling series.
My weekends are usually the most eventful. I'm always doing something new; going on a boat trip, 3D printing something (here's my Etsy page), building a new gadget (i.e. projection screen, matchbox racer ramp, patio decoration, ect.), cooking for friends or family, and more. I post a lot of things that I listed right here, on my blog!
My weekdays usually consist of school, eating, and sleeping, and homework. Thankfully, I always have two days to do my homework. It's called an AB schedule. Day A, I have four classes, Day B, I have the other four classes. I like my classes spread out over two days, but each class is 90 minutes!
I really like building things, improving my garden, creating fun presentations and projects at school, and reading and writing (especially here). I hope you learn something about me by reading this and the rest of my blog, so let's get to it!
-Kira Luna