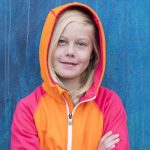 Hi! My name is Kira. I'm eleven years old. I go to Falcon Cove Middle School, and I am in 6th grade. Middle school is pretty different from lower school, especially since I've only been to private schools most of my life. I don't have a very busy after-school schedule, so I'll probably post another story or article every week. Oh, and you should know this about me before you wonder why a middle schooler would write so much and have such good writing skills: I LOVE READING. Now, you don't have to wonder anymore. OK, onto the next thing…
My weekends are usually the most eventful. I'm always doing something new; going on a boat trip, building a new gadget (i.e. projection screen, papertrophy, lamp, ect.), visiting friends or family, or a million other things that I sometimes do over the weekend.
My weekdays usually consist of school, eating, and sleeping, and homework. Thankfully, I always have two days to do my homework. It's called an AB schedule. Day A, I have: language arts, science, speech & debate, and drama. Day B, I have: PE, study hall, math, and world history. If I have any homework, I usually do it in study hall, but, if there's not enough time then, I do it over the course of two evenings at home.
I was planning on saying, "thank you for taking the time to learn about me, and…" but then, I realized that you didn't take that much time to read about my life. Reading the paragraphs in this post (not including this paragraph) took me approximately 55-60 seconds, so I'll just say…how about…bye? Ok. sure. Bye.
-Kira